Survey
Survey Says: IMTS 2022 Spare Parts Distribution Questionnaire
We polled spare parts professionals at IMTS 2022, asking what the most important trend impacting spare parts distribution in 2023, & how analytics help...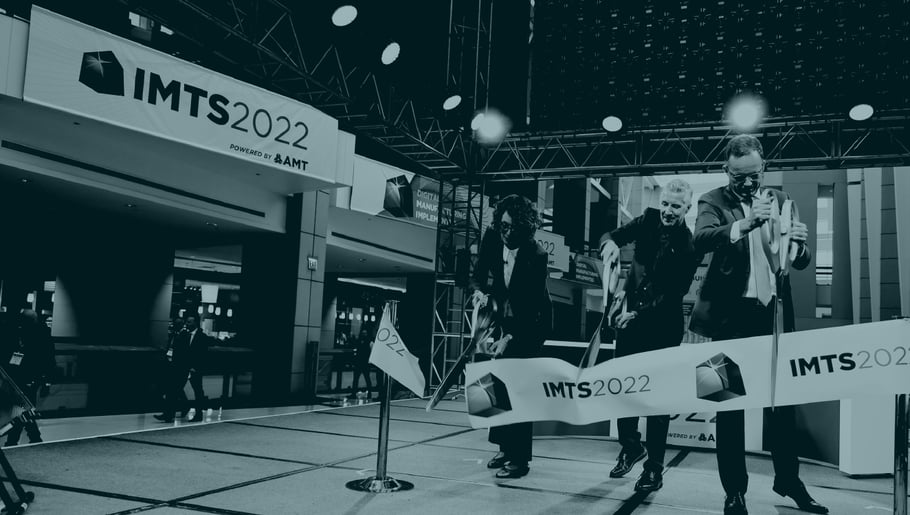 Our Chicago office had the opportunity to exhibit at IMTS 2022 in August, and the environment was electric.
Over 86,000 attendees and 1,816 exhibitors descended on Chicago's McCormick Place for the first IMTS show in three years! We would like to thank all the attendees that visited our booth to learn more about how an OEM can adopt a more competitive pricing strategy with market-based pricing.
In addition to all the new connections we made, MARKT-PILOT surveyed parts managers & directors across the machining industry to learn more about the pressures they face. We cast a wide net, as the respondents varied in industries including CNC machinery, semiconductors, material handling, and a used equipment distributor.
We asked just four questions, ranging from what they believe to be the most important trend impacting parts distribution in 2023 to how their organization views data analytics, resources used, and spare parts market competitiveness.
Our industry is at a turning point, with many organizations accelerating their digital sales channels and pushing transformation as a priority in 2023. By leveraging our target customers' perspective, MARKT-PILOT can better service their needs and continue to push a revolution in parts pricing.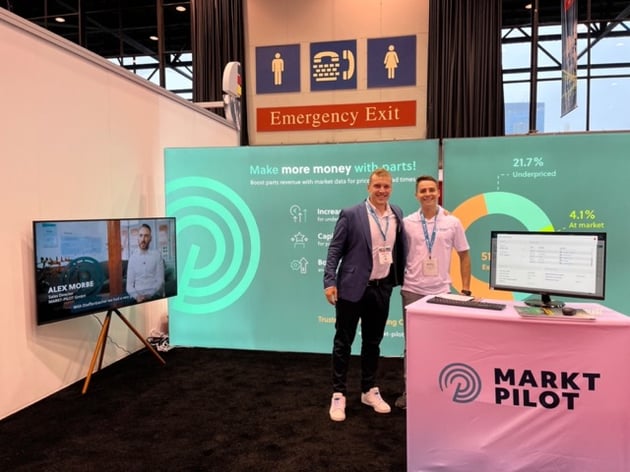 ---
What is the Important Trend in 2023 Impacting Parts Distribution?

Source: MARKT-PILOT: IMTS 2022 Spare Parts Questionnaire
---
When asked about the most important parts distribution trend our respondents face in 2023, we saw mixed answers.
33% reported increased investment by their organization to increase direct selling of parts to their customer. It is not a shock to see direct buying have the most responses, as OEMs continue to rethink their traditional distributor relationships and take back the reigns for both margin and customer experience.
The second and third most selected responses were Increased Reshoring and Continued Supply Chain Challenges. Both responses are interrelated as the supply chain crunch everyone has faced can be minimized with increased reshoring of manufacturing.
Combined, nearly 47% of respondents highlighted a need to increase supply chain efficiency and rethink their strategic priorities in relation to a highly variable environment.
13% of respondents see decreasing new machine sales and increasing service lifecycle as a trend they will target in 2023. If new machine sales are down as the capital investment is too high, oftentimes, an end user of the equipment will service old machines longer and keep the same footprint when focusing on maximizing their current resources.
Just 7% see an economic slowdown impacting distribution by increasing overall availability or inventory. As lead delivery times have increased worldwide for the last two years, many are unconcerned that lower economic growth will lead to a whiplash effect on the supply chain.
We were happy to validate the conversations and feedback we've received from our conversations with OEM executives over the last year, the spare parts sector is well positioned compared to other business units.
---
How Does Your Organization View the Resources Investment in Parts Distribution?
Source: MARKT-PILOT: IMTS 2022 Spare Parts Questionnaire
---
Capital expenditures are a necessity to earn revenue and organizations must plan the proper staffing, operational expenses, and tools to increase success. Finding qualified workforces will be a challenge globally in 2023 and can leave parts departments understaffed or under-experienced,
We asked our respondents how their organization view's the resources invested in their parts distribution. More than 54% reported "adequately funded" or "perfect," signaling many businesses are making do with what they have. Parts departments are a large profit generator for an OEM and finding ways to increase efficiency without large investment can easily improve business outcomes. Whether a digital tool or a key hire, each organization can adopt a new process to maximize its productivity.
Around 33% report that the resource investment is "underfunded or needs execution" in their organization compared to the revenue generated. Although parts can carry a large margin and operating profit, organizations are challenged by arming their department for continued success.
7% report the resource investment is "underfunded and unimportant", although aftersales service and parts can be a large profit generator, this is not a universal rule.
Increasing sales volume, product margins, and employee productivity are required to improve the internal point of view. With available resources being constrained, it is worth the time to explore programs that lead to measurable ROI and fulfill the strategic priorities of a parts department.
---
How Does Your Organization View Parts Analytics?
Source: MARKT-PILOT: IMTS 2022 Spare Parts Questionnaire
---
We were pleased to see an absolute majority responded that parts analytics and parts analytics are highly viewed internally at the OEM organization.
46.5% report analytics having a great impact on revenue, and 46.5% report that analytics have a slight impact on revenue. Just 7% report that their analytics have been viewed as a net cost.
Analysts are highly influential in aligning priorities, measuring success, and increasing revenue. Increasing the efficiency of an analyst's function can easily shift the internal point of view from a net cost or slight impact to having a great impact. The complexity of industrial distribution is a huge challenge to data collection and data insights that improve OEM's bottom line.
We've developed PRICE-RADAR to be the analytics powerhouse in your pocket.
As industry veterans, we found producing competitive pricing analysis led to incomplete reporting as the world was so large and intertwined. By measuring competitive lead times and prices across digital or traditional sources, we've been able to arm those responsible for pricing with real-time market data for their entire parts catalog.
---
How Well Does Your Organization Integrate Market Data to Improve Parts Pricing?
Source: MARKT-PILOT: IMTS 2022 Spare Parts Questionnaire
---
We are interested to see that no respondent reported "Excellent" or "Severely Underperforming" in relation to integrating market data to adopt a more competitive pricing strategy.
Most reported (70%) "Good" and "Okay" when asked how their organization leverages market data. 20% said they are "Underperforming" when integrating market data into their pricing models, but at least recognize the need to make continual improvements in their decision-making and resource allocation.
Finding and collecting the competitor's parts pricing can be an arduous task, that quickly becomes overcomplicated when dealing with thousands of SKUs. It can always be improved but the resource investment can make this priority unobtainable.
Leveraging MARKT-PILOT's competitive analysis software can inform OEMs how competitive they truly are. We often find revenue opportunities in 73% of our customers' purchased parts. By producing the information needed to make informed decisions, we want to influence all OEMs to rethink their competitiveness.
---
Subscribe For More!
We would like to thank everyone who submitted a survey response during IMTS, and we cannot wait for the next show. Although we were born in the industry, the conversations we have and the answers you provide allow MARKT-PILOT to focus on our customer's needs first. Your feedback helps us ensure no money is left on the table by an OEM!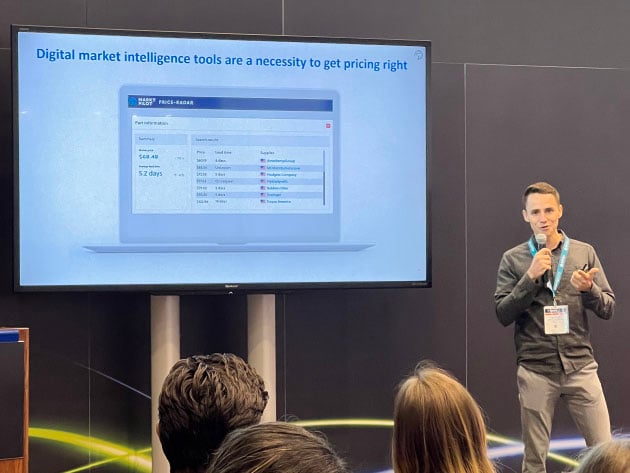 ---
As we face global economic headwinds, we're excited to help OEMs with their revenue growth priorities. Book a demo to see why PRICE-RADAR increases your parts analytics capabilities, with an ROI that truly impacts your bottom line.
We will continue to poll the industry to gain better insight that translates into better products! Stay tuned for future industry reports, surveys, & more!