PRODUCT UPDATES
PRICE-RADAR UPDATES
Here you can find all innovations and updates in our PRICE-RADAR and which functions we have optimized for you.
23 October 2023

Product Launch PRICEGUIDE:
Automated and market-based price recommendations for spare parts

WHAT IS IT?
PRICEGUIDE revolutionizes pricing for machine manufacturers. Based on PRICERADAR's market price research, PRICEGUIDE determines validated price recommendations for each spare part. All market data found for a spare part is individually and automatically evaluated by PRICEGUIDE based on a value driver logic, so that a validated sales price is calculated for each spare part. PRICEGUIDE thus removes the complexity and uncertainty from your pricing process and enables you to make the right pricing decisions at all times.
WHY DOES IT MATTER? THE PRICEGUIDE enables the creation of precise price simulations at the push of a button, making it the perfect complement to market price research. The PRICEGUIDE not only offers considerable time savings in your pricing process, but also a high degree of certainty in pricing by evaluating the market data determined by PRICERADAR using a value driver calculation. This allows you to make well-founded pricing decisions based on unprecedented market knowledge and systematically increase sales in your spare parts business.
HOW DOES PRICEGUIDE WORK?
The PRICEGUIDE is a standalone feature that can be accessed directly from the dashboard in the software. Users are guided through the pricing process in five intuitive steps. From defining value drivers and their weighting to creating revenue simulations, individual pricing criteria can be defined and dynamic revenue development can be simulated. In addition, users can draw on the recommendations of the PRICEGUIDE in the pricing process, enabling you to implement your optimal pricing strategy with ready-made price recommendations.
WHO GETS IT?
For all customers who have booked the "Professional" package. The use of the PRICEGUIDE requires the PRICERADAR.
22 October 2023
New design: Color changes in the graphical user interface

WHAT IS IT?
In recent years, MARKT-PILOT has developed and internationalized into the leading provider of market intelligence in spare parts pricing. We have taken this as an opportunity to make our branding fresher and more innovative. In the course of this, we have also adapted the color interface of the software and harmonized the color scheme of the individual potential groups.
WHY DOES IT MATTER?
The update serves in particular as preparation for the launch of our new product, the PRICEGUIDE. The new color design also makes the display of the potential groups clearer, which also has a positive effect on navigation within the software.
HOW DOES IT WORK?
The adjustments have no effect on the functionality of the software and are directly visible to every user after logging in.
WHO GETS IT? The adjustments to the color interface is directly available to all users.
15 May 2023
New Region Functions
WHAT IS IT? New functionalities allow the users to have one part line per region thus users can now set different sales prices for different regions.
WHY DOES IT MATTER? With increasing maturity in market-based pricing you may set different sales prices in different sales prices in different sales regions. As we bring market intelligence from different regions as well, it makes sense to compare sales prices with market prices from the same regions.
HOW DOES IT WORK? On the dashboard users can now select different filter settings within the different reports to change the results between all markets and single markets. In the parts overview users can now filter and sort the results by regions and also set new or other sales prices in different regions. Regions are available for all booked regions.
WHO GETS IT? All customers who have booked more than region.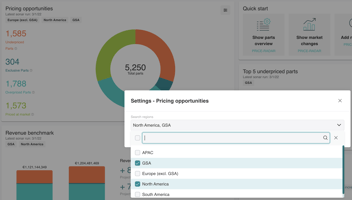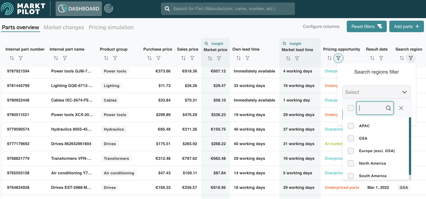 9 May 2023
Revenue Benchmark
WHAT IS IT? With this report you can see your opportunities – your current sales prices vs. market prices
WHY DOES IT MATTER? After the latest search run you want to see what's your opportunity. A quick summary of your current revenue (price x sales quantity) vs projected revenue based on market prices and industry benchmark. You'll see how much parts, competitors, price and lead times are considered.
HOW DOES IT WORK? After a search run we automatically update market data, thus the report gets updated. With the report setting you can select the right currency for you.
WHO GETS IT? All plans.