Blog
Game-Changing Insights: Syncron & MARKT-PILOT LinkedIn Live Explores Market-Based Pricing
Tim Geyer, Managing Director of North America, recently joined industry experts from Syncron to break down all things market-based pricing.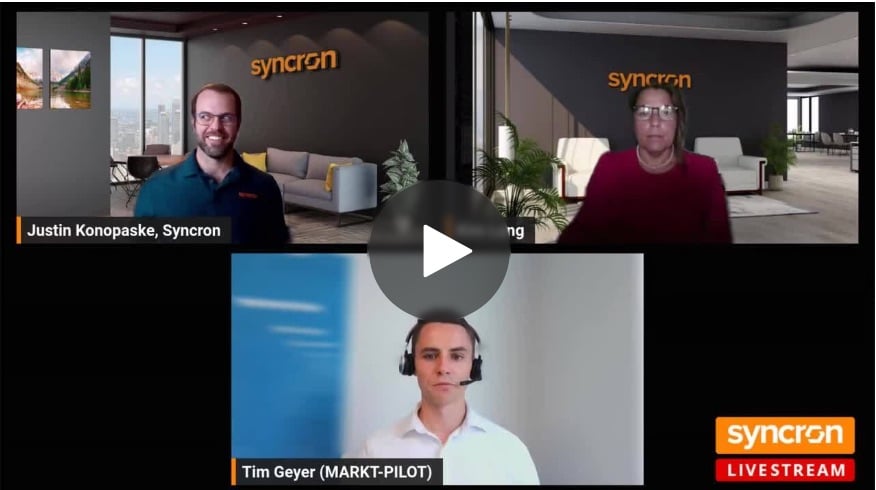 Tim Geyer, Managing Director of North America, recently joined industry experts, Justin Konopaske and Kim Long from Syncron to break down all things market-based pricing. In this blog, you will find a summary and the key takeaways from their engaging conversation.
What is market-based pricing? Why is it so important?
In the past, selling parts to end customers was a straightforward process for OEMs and their dealer channel partners. They were the sole source, enjoying an established relationship with customers who naturally sought them out as the first point of contact. This was mainly because there were no viable alternatives available at the time.
However, the current landscape is vastly different. There is now a multitude of options for end users to explore when searching for parts. Numerous third-party competitors are providing parts through a diverse range of channels, encompassing online platforms and various traditional avenues. Additionally, pricing has become more intricate. For OEMs and dealers, it is crucial to ensure that their pricing aligns with the market. If customers perceive significant disparities between their prices and what is available elsewhere, it can negatively impact their price image and customer relationships.
Successfully navigating this situation involves gathering comprehensive and accurate competitive market data and integrating it into a broader pricing strategy.
The buying process has changed in today's digital age of technology. What does that mean for approaching a market-based pricing strategy?
Customers are more open to price adjustments.
To illustrate this, during periods of inflation, you can leverage the prevailing economic conditions as a justification for proactively examining market data and adjusting your pricing accordingly. By incorporating data-driven decision-making, you provide customers with a clearer understanding of the rationale behind your adjustments. This instills a sense of confidence in them, as they recognize that your pricing is grounded in market realities.
How does market-based pricing come into play with an e-commerce strategy?
When you transition your business online, it becomes significantly easier for your customers to compare prices across various sources. Therefore, it is crucial to ensure that your pricing aligns precisely with the market when making this online shift. During the conversation, they emphasized that failing to understand how your prices compare to the market can result in overpricing certain parts and underpricing others. Getting your pricing right from the start is crucial, as it becomes significantly more challenging to raise prices or regain customers who were deterred if initial prices were originally set incorrectly.
How long does it take to realize a return on investment when you are taking on a change in technology around pricing?
SYNCRON:
You can expect to reap numerous benefits that progressively magnify as you embark on your pricing journey. By consolidating all essential pricing data in one centralized location, you can swiftly experience the advantages of improved efficiency. Furthermore, enhanced visibility allows you to easily identify quick wins and implement necessary changes. Through the utilization of Syncron, you gain the ability to optimize and smoothen your price curves, leading to immediate value realization.
MARKT-PILOT:
At MARKT-PILOT, the focus is to generate excitement around pricing by delivering tangible results. We are committed to helping every company we work with achieve substantial ROI within the first 6 months. With pricing playing a critical role in your bottom line, accessing and adjusting the relevant data will enable you to witness immediate returns on your investment.
---
In your toolbox of pricing strategies, market-based parts pricing is essential for your parts, and you quickly see the return when you focus on them. Explore what is out there and think about if market data could improve your pricing strategy and be bold and take action.
For the full video, click here.
About MARKT-PILOT
MARKT-PILOT is reimagining parts pricing by providing the market intelligence required by OEMs to make more money with parts. MARKT-PILOT's innovative software solution, PRICE-RADAR, pinpoints opportunities to grow your parts revenue sustainably, by identifying advantageous lead times, parts priced below market, and purchased part exclusivity. Since 2020, their customers have realized $200MM in additional parts revenue after implementing market-based pricing, informed by MARKT-PILOT's market-wide data. For more information, visit https://www.markt-pilot.com/en/.
About Syncron
Syncron helps manufacturers and distributors capitalize on the new service economy by optimizing aftermarket profitability, increasing customer loyalty and enabling the transition to servitization. Syncron aligns all aftermarket services with its Connected Service Experience (CSX) cloud platform, helping companies differentiate themselves through exceptional aftermarket experiences while driving significant revenue growth. The world's top brands trust Syncron, making it the largest privately-owned global leader in intelligent service lifecycle management SaaS solutions. For more, visit syncron.com.