Blog
German Machine Manufacturing Summit 2023: Record Participants & Innovations in After Sales in the Industry
The Maschinenbau-Gipfel is the focal point for machine manufacturing in Germany and provided a platform for intensive discussions, innovative ideas, and recognition of outstanding achievements.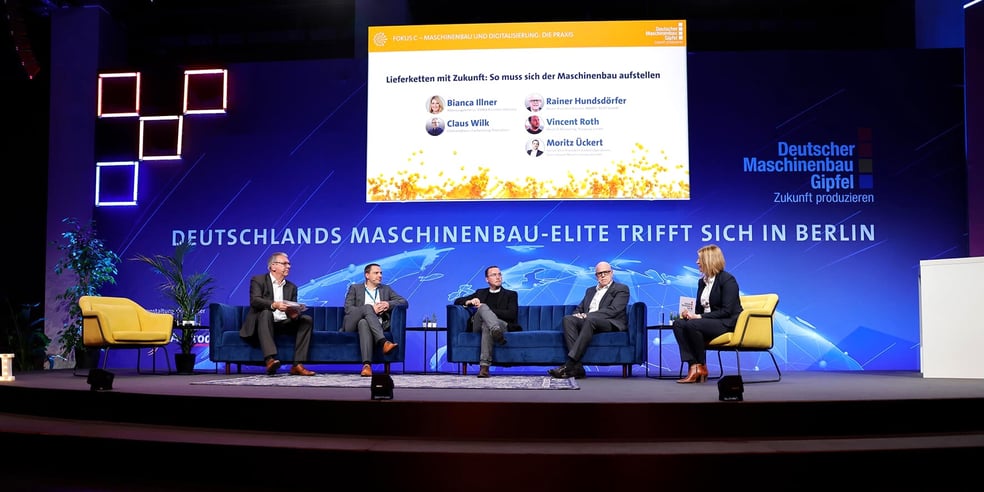 The Maschinenbau-Gipfel Machine Manufacturing Summit stands as the central hub for the machine manufacturing sector in Germany. This year, it once again served as a platform for profound discussions, innovative ideas, and acknowledgment of exceptional accomplishments. The event saw a record-breaking attendance from the industry, with approximately 900 individuals present in Berlin.
The event was opened by high-profile speakers, including Christian Lindner, Chairman of the Free Democratic Party (FDP). In his speech, Lindner emphasized the importance of machine manufacturing for the German economy and urged a "second turning point" for the industry. In his opinion, innovations and technologies should lead machine manufacturing into a new era.

Robert Habeck, Federal Chairman of Bündnis 90/Die Grünen, expressed the view that the industry in Germany is more affected by global challenges than other sectors. He emphasized the need to drive forward sustainable technologies and environmentally friendly innovations in order to make German machine manufacturing fit for the future.

The highlight of the event was the presentation of the German Machine Manufacturing Award 2023 to Axel Barten at the evening event. This award was presented for his outstanding achievements and his contribution to the further development of the industry.

Another focus of the summit was the discussion on the role of data in machine manufacturing. Under the motto "Manufacturing X: Data is Love," it was emphasized that data makes a decisive contribution to efficiency, quality, and innovation in the machine manufacturing industry. Experts shared their insights on how data analysis and management can revolutionize machine manufacturing. MARKT-PILOT's solution also addresses this point and provides OEMs with data (prices and delivery times) on the spare parts of current competitors on the market with automated market price research.
The event offered a thorough overview of present trends and upcoming advancements in the German machine manufacturing sector. It showcased the industry's dynamic and diverse nature. For MARKT-PILOT, it was a highly successful and highly relevant event, and we eagerly anticipate the MBG 2025.