Every day brings a new challenge - it never gets boring!
Meet Thilo, our new Sales Rockstar. He is passionate about innovative Technologies, the start-up culture and Sales. A Perfect Match!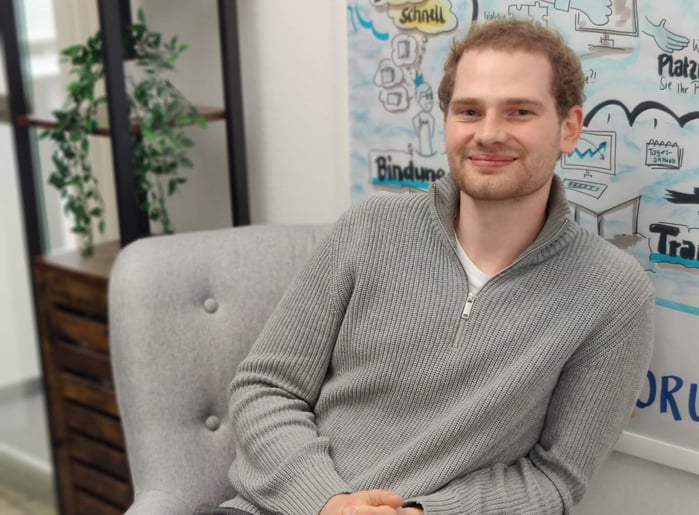 Thilo is our new Sales Talent and was able to schedule four customer meetings on his first day - a new record! We asked him about what makes working at MARKT-PILOT unique for him:
---
How did you first hear about MARKT-PILOT?
I first came across MARKT-PILOT while listening to a podcast dedicated to startups. Intrigued by what I heard, I wasted no time and applied directly through their website. The opportunity seemed too good to miss out on.
What convinced you to join MARKT-PILOT?
The idea of being able to look back one day and know that I was able to contribute to the scaling of MARKT-PILOT inspired me from the very beginning. What has also impressed me time and time again, from when I first made contact during the application process to today, is the tireless enthusiasm and commitment shown by everyone here at MARKT-PILOT.
How do you start your day?
Before I go into the office, I often start my morning by quickly grabbing the missing ingredient for my breakfast in the nearby supermarket - a yogurt. In the office, I then make use of the delicious muesli bar to add to it and get ready for the day. It often starts directly with a customer meeting.
What does a day in your work life look like?
I'm currently in the onboarding process as a Business Development Manager, learning every aspect of the sales process from scratch. This includes tasks like cold calling. The clients I acquire during this phase will later be guided through the sales process by me. This means a lot of client interaction. I love that and think its very interesting because every client is different. I spend my mornings acquiring new clients and in the afternoons, I join more experienced colleagues in sales meetings. Learning by Doing!
What's your favorite part of being a BDM/Account Manager?
What I love most about being a BDM (Business Development Manager) is getting to work very closely with clients. Each day brings new challenges, and every client meeting is a unique experience. It keeps things exciting and it never gets boring.
What recent achievement are you most proud of?
I'm very proud about my first day of cold calling. I was able to set up four meetings with potential clients, which is something no one on the team has accomplished before. It feels great to hit the ground running and make an impact right from the start.
What are you passionate about?
At MARKT-PILOT, I get to do what I love - exploring new technologies, learning new things, and working in sales. It's a great combination that keeps me excited and motivated every day.
Describe the team at MARKT-PILOT in three words.
Our team is known for being motivated, dynamic, and having a great sense of humor.
What do you like most about working in one of the fastest growing tech companies?
What excites me the most is the opportunity to actively participate in the company's growth and to work in an environment defined by innovation and constant change. In the relatively short time I've been here, I've witnessed MARKT-PILOT's rapid growth journey, and it's simply inspiring to know I can contribute to it.
Why should someone join the team?
At MARKT-PILOT, every individual counts and we support each other. From day one, I felt welcome and valued. If you are willing to give your best, you are able to grow, get out of your comfort zone and have fun at the same time. The team not only reaches for the stars but also really enjoys celebrating successes😊
Ready for the next big career step?