From Founders Associate to Head of North America
Meet #piloteer Tim Geyer, who took off on an amazing career journey in our fast-growing start-up.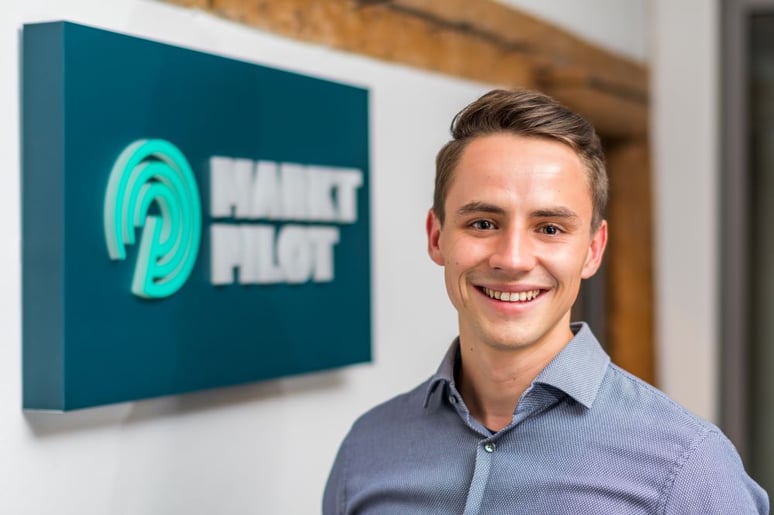 Meet #piloteer Tim Geyer, who took off to an amazing career journey in our fast-growing start-up. Two years after starting as a Founders Associate, he is now leading the MARKT-PILOT crew and office in Chicago. In this interview he speaks about his start at MARKT-PILOT, why he loves working in a start-up environment, and provides advice for those just starting their career!
Describe the team at MARKT-PILOT in three words.
Passionate, ambitious, empathetic.
How did your career journey at MARKT-PILOT start?
Our founder, Tobias Rieker, and I met through a start-up event at my business school long before he officially founded the company. We stayed in touch and crossed paths again shortly after that when Tobias requested support from the pro bono student consultancy that I led at the time. He pitched working at MARKT-PILOT in the role of a Founders Associate to support him on his main priorities and to learn from him about the worlds of start-ups and machinery. The drive, ambition, and momentum of the team captivated me, and I was thrilled to be able to join their journey in early 2021. The first months were as intense as they were rewarding since I was writing my master's thesis while working full-time on topics including our Venture Capital seed round and our North America launch.
What is your proudest moment at MARKT-PILOT so far? 
My proudest moment was when I wasn't actually in the MARKT-PILOT office :) I went on a short vacation to recharge and the team in the Chicago office crushed our targets during that time. This is proof that a group of truly passionate and exceptionally talented people joined our mission and that you can achieve (almost) anything when working as a team. Today, we are one of Chicago's "Best Start-Ups to Work For," which fills me with pride and joy.

What are your biggest learnings so far?
Put in the effort and be bold, success will happen naturally. If you are passionate and clearly good at what you do, your value will be recognized, and you will be empowered to maximize your positive impact on the company.
Identify your weaknesses and surround yourself with team members who can fill in your blanks. Empathy and authenticity are two key characteristics for me that are also part of our core values at MARKT-PILOT. By sharing your weaknesses with the team, every day is more fun because we can focus on overcoming obstacles together.
How did you end up going to Chicago? 
It was an incredible career opportunity that I definitely didn't want to miss out on. By that time, I was working at MARKT-PILOT for about six months, and I wanted to further enhance my skills in strategic planning and analytical thinking. MARKT-PILOT enabled me to do this, and I was given a lot of trust and responsibility, which I don't take for granted. I think one of the best things about MARKT-PILOT as an employer is that you really get the chance to grow and thrive on new tasks. It was a very bold move to expand to the US that early as a young business, but the challenge enticed me, and it was an amazing experience getting MARKT-PILOT off the ground in North America. On a personal note, I love living in countries outside of Germany and was ready to explore Chicago.
What do you like most about your role?
What I like the most is that I get to work together with an exceptionally talented and passionate crew every single day. The team spirit is remarkable, and my role allows me to interact with both our North American crew and the German HQ daily. It may sound like a cliché but it's true - no two days are alike. The variety of tasks a position in a start-up brings is vast, so I get to work on highly strategic topics, but I also work on the forefront with our business development team to accelerate our growth.
What advice do you have for people that are just starting their careers?
Show genuine curiosity and always think a step ahead. Leaders, especially entrepreneurs, love people who understand the bigger picture and carry out tasks independently. Be the person that your leadership team can rely on because they will reward you with broader responsibilities!
Constantly ask yourself if you love what you do and if you have enough growth opportunities in your role. If this is the case, keep grinding as success will come quicker than you think. If this is not the case, address it openly, otherwise, nothing can change.
Ready for your next big career step?